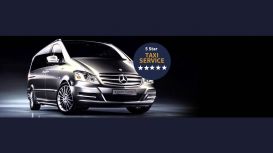 Putting your trust in a local taxi company in Leicester feels so much harder than it should do. At the end of the day, you're not asking for much are you? A polite, well trained taxi driver who knows Leicester – and how to get to the airport promptly and safely? A taxi driver who turns up when they say they're going to?
A taxi driver in Leicestershire who doesn't use their phone when they're driving? A taxi company that charges you a fair and competitive price, every time? A Leicester taxi firm that knows the fastest routes, to ensure you get home as fast as possible – or make your flight on time?
It's not hard to get it right – so why is it that so many cab firms get it wrong and struggle to meet even the most basic standards? At Kirby Taxis, we put you and your needs first, every single time. We're proud to be a taxi company in Leicester and our drivers are friendly and professional. We pride ourselves on our comfy vehicles, and don't think it's too much to ask a driver to know their local area.
Leicester has a lot to see and do, and our drivers know the city well enough to ensure you find the location you are looking for. We know the fastest and safest routes, as well as offering safe, punctual transfers to any UK airports. We offer an unbeatable service.
---
Services
When you're heading off on the trip of a lifetime, the last thing you want is to worry that your airport taxis Leicester isn't going to turn up. All too often, airport transfers can leave you feeling frazzled, when the whole point of getting a taxi to the airport was to avoid stress.
Reviews and Ratings
Jade Lang, Leicester, Leicestershire
From the initial phone call to book to the time it took them to collect & drop us off, everything was too an excellent standard. I have been using them for nearly 5 years and wouldn't change! They are all lovely happy drivers also.