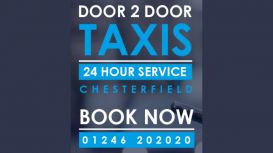 Door 2 Door Taxis is an honest, reliable taxi service serving Chesterfield and the surrounding areas. With the manager having 25 years experience in the taxi business, and being directly involved with running the company as well as being a driver, we can guarantee that you are in good hands.
We believe that being reliable and friendly is the key to success in this business sector, which is why we interact with customers as much as possible and try to provide the best service we can. We have proven to be a fast-growing taxi firm in Chesterfield, by building trust with our customers and gaining repeated custom. Door 2 Door Taxis hope to be the go-to taxi company for Chesterfield and South Yorkshire.
Services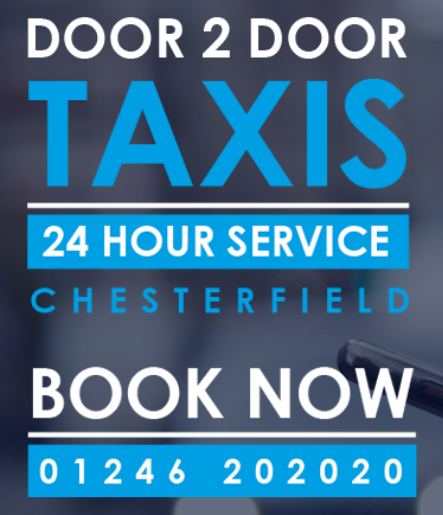 Vehicles:
The vehicles we use are all in immaculate condition, are well maintained and are regularly serviced. This is because we want to give our company a good reputation, and we know that cleanliness is something customers look for when choosing a taxi company, especially if they are to use them on a regular basis.
Prices:
We are very price competitive, as we know the main thing customers look for when choosing a taxi to book is how much they charge compared to their competitors. By keeping our prices as low as possible, customers are more encouraged to use our services due to our reputation of being reliable.
Technology:
At Door 2 Door Taxis, we excel from our competitors by incorporating the latest technology to make our service as efficient as possible and run smoothly. For example, we use the latest data despatch technology with tracking system and sat nav which includes text back when the job is dispatched as well as on arrival, with the driver's name as vehicle. This ensures that customers never have to wait outside for their taxi to arrive, especially important when picking customers up at night or alone, as they get a text when their taxi arrives. This also ensures that we run on schedule because it prevents us from having to wait for customers.
Reviews and Ratings
I used door 2 door for the first time today the service was excellent from booking a taxi to the drop off. The driver was very nice chatty and friendly. I would recommend them excellent service will be definately using them again. Thanks again door 2 door.
If I could give more then 5 stars I would, I really needed help last night and the staff and door staff was absolutely amazing by helping me up to the hospital, I'd like to thank all of you for helping me.
On time, informed frequently how close he was to arriving, driver smartly dressed with a tie, opened doors and held a torch, very polite, recommend A+.