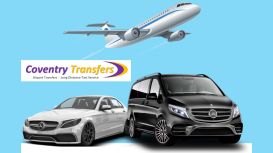 Coventry Taxis & Airport Transfers have been the most diligent taxi transfer options for the people of Coventry since the first day of our company's service.We are the leading taxi firm that can deliver the most reliable & on time service for all of our customers. We know the amount of hassle it can be when booking a taxi to the airport.
Thats why we are always here if you have any questions regarding your taxi booking. Students from warwick university & coventry uni are always welcome as we can give student discounts to the people looking for a cheap price.
---
Services

Airport Transfers & Coventry Taxis have been the leading solution providers for Airport taxis to/from Coventry since the first taxi rolled out under our banner. The company has grown on the consistent strive to improve the quality and promptness of our service in this area to give our customers the best possible experience.
We understand the seriousness of an airport taxi travel. Customers are looking for comfort, class, and speed when their minds are racing with the urgency of catching their flights. When travelling back from a long journey from the airport they are looking for comfort and relaxation to enjoy their rides back to their hotels or homes. We offer the best customized service for every client to make each experience with our airport runs that are uniquely pleasant.
Reviews and Ratings
Jessica, Coventry, West Midlands
Great airport transfer taxi service. Will recommend to my family!